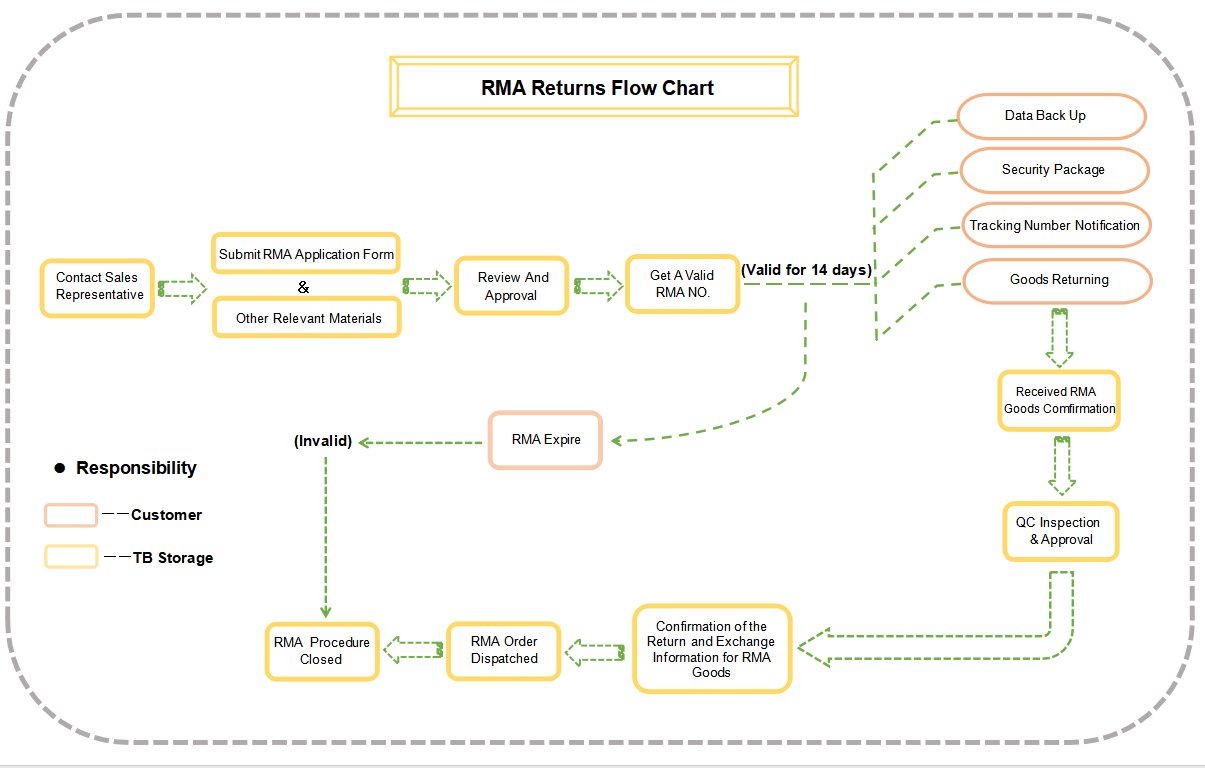 Before you return any goods, please obtain a Return Material Authorization Number (RMA) from TB Storage. If we receive your shipment without a valid RMA number, we shall store it in our warehouse but not process it until you provide us with required information.
Before you get a valid Return Material Authorization Number
Please inform TB Storage of your sales invoice number, material serial number and other required information of this order for our review. After verification, you will be informed via e-mail of the best solutions and the RMA number which is valid for fourteen (14) work days. If you fail to follow up the RMA issue within the assigned period of time, your RMA application will not be proceeded except in very special circumstances.
When you get a valid Return Material Authorization Number
1. Before your returns, please back up your data as much as possible. Once your malfunctioned products have been signed by TB Storage, they shall not be returned to you any more.
2. Please note that your malfunctioned products must be properly and safely packaged with a valid RMA number marked on the box.
3. Returns that arrive at TB Storage warehouse less than 15 days before the Warranty End Date will not be covered under warranty.
4. In the event of receiving damaged, incomplete or non-TB Storage sourced goods, your RMA application will not be disposed of. The customer shall assume the freight charges and make all arrangements to get the goods to our designated warehouse.
5. After delivery, please advise us by email of the tracking number of your returned items. During this period, our team shall stay connected with you.
After we received your returned goods
Our QC department shall do an inspection of your returned items. Only when quality defects are verified shall you obtain a successful replacement. Once your agreed replacement has been well prepared, they will be directly delivered to your receiving address as stated on the Proforma Invoice.